Mobile Banking/APP Links
Get out of line and get online... on the go! 

Enjoy the ease of viewing account history, checking balances, and making transfers, just like First National Bank of Litchfield's online banking, with your mobile phone.
Standard FNBL online banking is required for mobile access.
Standard message and data rates may apply. Contact your mobile service provider for details.
Mobile Banking Apps
ANDROID APP – GOOGLE PLAY STORE
ANDROID TABLET – GOOGLE PLAY STORE
Mobile Banking Setup
Users must already be signed up with standard online banking access for mobile access.
Download the APP specific to your device, or for non-app mobile web access manually enter the address: m.fnbill.com on your mobile device. You should add this as a favorite or shortcut in your mobile browser. (Our apps will do this automatically)
Login in using your standard online banking username and password. You will be presented with automated out of wallet questions in which to verify your identity and authenticate your device.

Bill pay access is available to mobile users who have enrolled. New payees setup is not allowed within mobile.
Within standard online banking access, the Mobile Banking Center is accessible the Administration drop down menu.
SMS Text Banking
Through the SMS texting channel customers can receive balance and history information. 
SMS texting does not allow for transaction capabilities or bill pay access.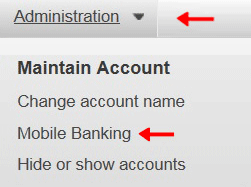 -Sign in to standard online banking, and click the Administration drop down menu.
-Move down to Maintain Account, and click Mobile Banking.
-Within the Mobile Banking Center, you can register your phone for text banking
-The bank's SMS short code/mobile texting number is: 49794
You may wish to add this number to your phone's contact list for easy access

Text Banking Commands - Quick List

B = BALANCE Summary of available balances for all accounts

H = HISTORY  Summary of recent transactions per account
C = COMMAND List of Available Text Banking Commands
HE = HELP Help content for Text Banking
L = LOGIN Receive the Mobile Web URL
R = RECOVER Receive a URL and new activation code for Mobile Web
S = STOP De-activate all bank text services