Secure Code

Online Banking Secure Code
First National Bank of Litchfield's online banking system contains a strong login safeguard in the form of a phone call or text to retrieve a one-time secure code.

What is a Secure Code?
This feature ensures that you are the person actually accessing your accounts online by contacting you at a number on file with the bank whenever your computer, tablet, or phone is not recognized. Any attempt to access your accounts from an unknown device triggers the security process. This secure code feature is state-of-the-art for online banking protection because no one can obtain your login information by capturing your keystrokes. The banking term for this security is "out-of-band authentication".

When is a Secure Code Required?
Once you have identified yourself and your device by providing the secure code from a call or text, online banking will only ask you to repeat the process when it does not recognize your device. Below are examples of situations that may require you to receive the secure code again.
Clearing your cache or cookies on your computer
Having your browser set to clear cookies upon exit

Changing the browser you use to access the Internet

Using a browser that is not supported by the online banking software

Changing devices (i.e. laptop to tablet to phone)

Your PC getting infected by a virus or malware

Changing Internet service providers

Resetting your wireless router

Using your tablet or phone in a different location (using a different wireless signal to access the Internet)

Using an automatic update feature to download online transactions into financial software

While we realize that having to repeat the verification process can be inconvenient at times, we hope you understand that it is for your own safety and security.

Secure Code Retrieval Process
If we don't recognize the device from which you are attempting to access Online Banking OR if you are logging in from a geographic location/network not routinely used by you, we need to identify you. An extra layer of security is needed to complete the login.

When logging into Online Banking, after you input your username, if we don't recognize your device or network, you will receive a security message to Continue with Security Code. A security code is needed to continue with login; click Continue with Security Code to continue with login.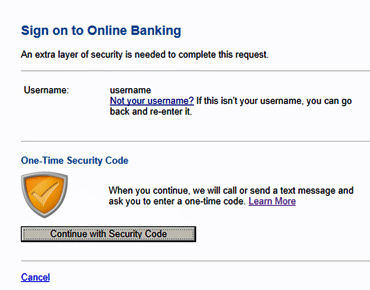 The security code can be delivered to you by phone call or by text message. On the next screen your contact information on file with the bank will be displayed and you may select how you want to be contacted.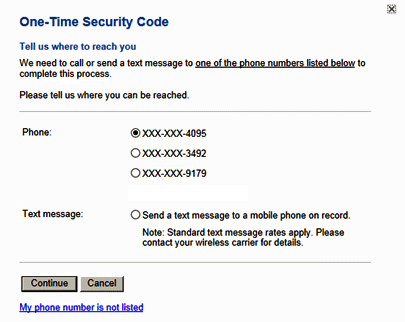 Phone Call - If you select to receive an automated phone call, click on Continue and the next Online Banking screen will provide the one-time security code that you will enter on the phone when you receive the automated phone call.

Text Message – If you select to receive a text message, click on Continue and the next Online Banking screen will request the one-time security code that you will receive in the text message.
 When the one-time security code is provided by you, you will be directed to the password screen.